O quarteto polonês Decapitated lançam hoje novo single 'Just A Cigarette' que antecede o lançamento do tão aguardado álbum novo "Cancer Culture" que será lançado mundialmente no dia 27 de Maio pela Nuclear Blast Records.
O lançamento do aguardado álbum "Cancer Culture" está cada vez mais próximo. Nestes oito álbuns de estúdio DECAPITATED cresceu muito mais do que aqueles adolescentes de uma cidade pequena da Europa jamais imaginaram. Hoje a banda é referência para um gênero musical dentro do amplo estilo que é o heavy metal. Todos os álbuns que a banda lançou, ajudou a expandir ainda mais a sonoridade dentro do segmento, fazendo com que a banda atingisse um nível de autenticidade e integridade única em seu estilo.
Hoje a banda divulga um pouco mais do que o álbum novo "Cancer Culture" tem a oferecer com o novo single "Just A Cigarette".
O guitarrista e compositor Vogg comentou a música: "Just A Cigarette é uma música épica e poderosa de death metal melódico sobre a expectativa de vida da Humanidade e morte. Foi a primeira música que escrevi para Cancer Culture e que moldou o que seria este álbum novo. Para apresentar melhor a faixa e diretamente afetar os sentidos dos ouvintes, queríamos entregar ela como uma obra de arte. Para esta ocasião, nós juntamos com o artista polonês Marcin Białas que nos deixou usar suas gravuras fantásticas que utilizamos muito em nosso videoclipe."
O videoclipe oficial para a nova faixa foi filmado e dirigido por Marcin Halerz da Cracóvia, Polônia.
A faixa é uma obra de arte do death metal técnico e acompanha um vídeo de puro heavy metal!
ASSISTA AO VIDEOCLIPE AQUI:
OUÇA A MÚSICA AQUI: https://bfan.link/just-a-cigarette
PRÉ-SALVE "CANCER CULTURE" AQUI: https://bfan.link/DecapitatedAlbum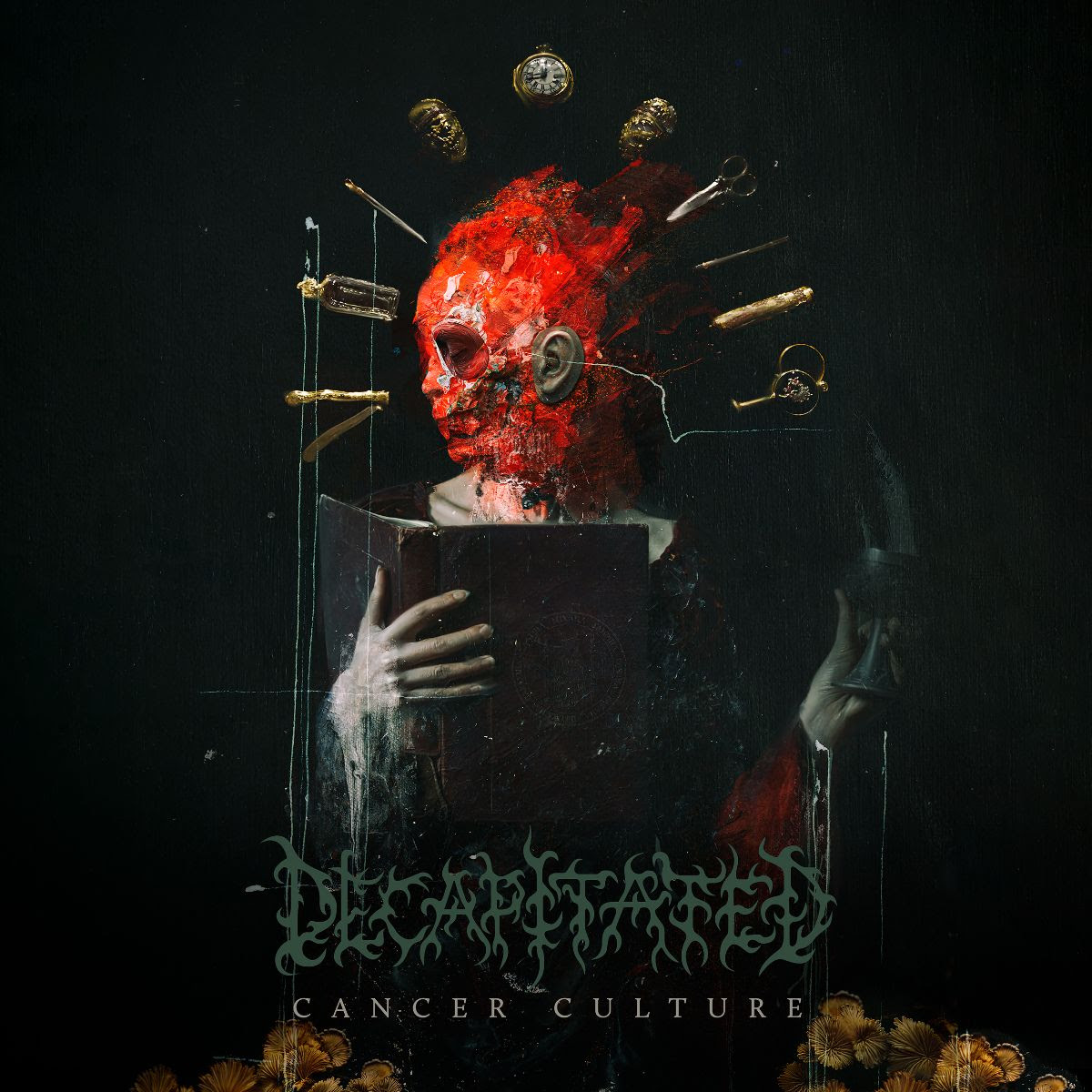 Tracklist "Cancer Culture":
1. From The Nothingness With Love
2. Cancer Culture
3. Just a Cigarette
4. No Cure
5. Hello Death
6. Iconoclast
7. Suicidal Space Programme
8. Locked
9. Hours as Battlegrounds
10. Last Supper
A banda também anunciou recentemente uma turnê com os colegas de selo DESPISED ICON. Confira as datas abaixo!
DESPISED ICON / DECAPITATED 
Convidados Especiais:
BRAND OF SACRIFICE, DISTANT, VISCERA
29.10.22 Germany Hannover @ Faust
30.10.22 Germany Wiesbaden @ Schlachthof
31.10.22 Belgium Brussels @ Botanique
01.11.22 UK London @ The Electric Ballroom
02.11.22 UK Bristol @ SWX
03.11.22 UK Birmingham @ The Mill
04.11.22 UK Glasgow @ Garage
05.11.22 UK Manchester @ Damnation Fest (without BOS, Viscera)
06.11.22 France Paris @ La Machine du Moulin Rouge
07.11.22 France Lyon @ CCO
08.11.22 Switzerland Pratteln @ Z7
09.11.22 Germany Munich @ Backstage
10.11.22 Italy Milan @ Slaughter Club
11.11.22 Slovenia Ljubljana @ Orto Bar
12.11.22 Hungary Budapest @ Dürer Kert
13.11.22 Czech Rep Prague @ Meet Factory
14.11.22 Poland Warsaw @ Proxima
15.11.22 Germany Leipzig @ Felsenkeller
16.11.22 Germany Berlin @ SO36
17.11.22 Germany Hamburg @ Gruenspan
18.11.22 Netherlands Tilburg @ 013
19.11.22 Germany Bochum @ Matrix
Formação: 
Waclaw 'Vogg' Kieltyka – guitarras
Rafał "Rasta" Piotrowski – vocais
James Stewart – bateria
Paweł Pasek – baixo (ao vivo)
Mais informações:
www.decapitatedband.net
www.facebook.com/decapitated
www.instagram.com/decapitatedband
https://www.youtube.com/decapitated
https://twitter.com/decapitated